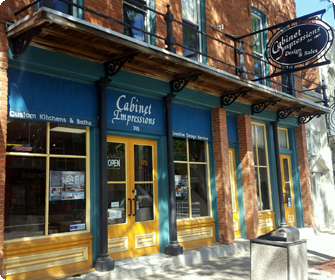 Cabinet Impressions is a premier kitchen design, sales and service firm. We cover Northwest Ohio & Southeast Michigan area. Our professional design staff includes NKBA Certified Kitchen Designers (CKD's) who work directly with you to achieve a creative design that will enhance the beauty and function of your home.
Designs are presented with computerized or hand-drafted renderings, so you can easily see the appearance of the finished product. Stop in at Cabinet Impressions showroom and see for yourself.
Cabinet Impressions serves Maumee, Toledo, Sylvania, Perrysburg, Oregon, Rossford, Bowling Green, Temperance, Lambertville, & Monroe.
Call us at: 419.893.0014
---
The kitchen looks fantastic! To say it's a totally different room is an understatement. Thanks also for recommending Dave Thompson. He did what he said he'd do when he said he would. Unheard of in this day and age….
Dear Sharon, I often think about you when I am in my new kitchen. It is really beautiful and we are enjoying it very much. I wanted to thank you for all your help in designing it (and the bathrooms – which are also wonderful).
Chuck and I want you to know you guys are our heroes! Once again, you have found it in your heart to do whatever it took to make a dream happen for someone else! We are simply amazed and extremely proud to know that we are associated with "super" people like you.
I can't thank you enough for the awesome kitchen design. It's exactly what we wanted: it's functional, elegant and fun to work in… you were able to accomplish this extraordinary makeover using the majority of our original cabinets – just outstanding. Thanks so much!
…the beautiful kitchen that you designed… is gorgeous and we just love how it all came together. Even the subcontractors were raving about it! You really should submit it to a magazine… It is truly a dream kitchen to us.
As an architect, I have worked with Linda on several residential kitchen/remodel projects. She brings a depth of knowledge and creativity to the projects that is very refreshing and enjoyable… Linda is the only designer I recommended.
I can't say enough good things. I LOVE my kitchen! It's small and other designers we talked to basically suggested new cabinets and did nothing with the layout… Everyone that walks in can't believe the transformation. Thank you, Linda.